What's On The Plate?
Hey everyone, it's been a while since our last update but fret not, we're still here!
The first quarter of 2017 had been an extremely busy one with most of our team (including myself) being out and about. Recently, we got to test a couple more cleaning chemicals from our friends in Switzerland, NGL Cleaning Technologies SA, as well as a range of Anti-Tarnish solutions that we carry from our Singaporean friends, Stella Chemicals.
The jewellery trade is one of the oldest industries known with established jewellery making dating as far back as 5000 years ago. Today, the industry looks to stay ahead of the curve, with excellent quality and value being at the forefront of many of our clients' goals.
As technological advancements such as additive manufacturing is made alongside traditional craftsmanship, we are beginning to see more complex pieces of jewellery being offered to the market. Cleaning processes are now even more crucial than ever to ensure unwanted residues from oxidation, polishing, bombing, soldering, and electroplating are removed so the appearance and quality are maintained to the highest standards.
To showcase the efficiency of our cleaning chemistry, we took it upon ourselves to test the NGL Galvex 18.01, as well as the de-tarnish chemical, NGL Silverbright. First off, I'd like to thank the CM family for readily providing some of their own jewellery pieces so that we could carry out the experiment. As expected, the chemicals did its job and everyone was happy with the results!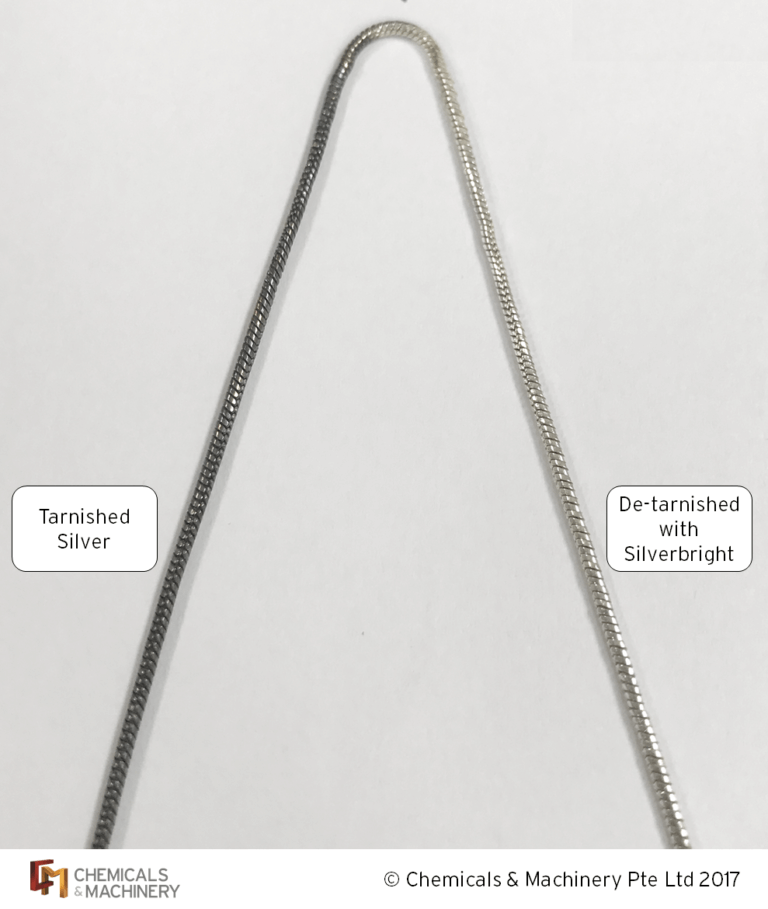 This particular chain, pictured above, was kept in storage for almost a decade. With such severe oxidation, our colleague Vasanthi thought it was a lost cause. This is quite a common problem when silver is left in storage – it starts to react with the environment and oxidation occurs, covering the surface with a layer of black residue. Dipping it into the ready-to-use NGL Silverbright, the layer of oxidation is stripped completely in only 5 seconds! The best part? Once the layer of oxidation is stripped off, the chemical does not react with the silver and therefore, does not etch the precious silver.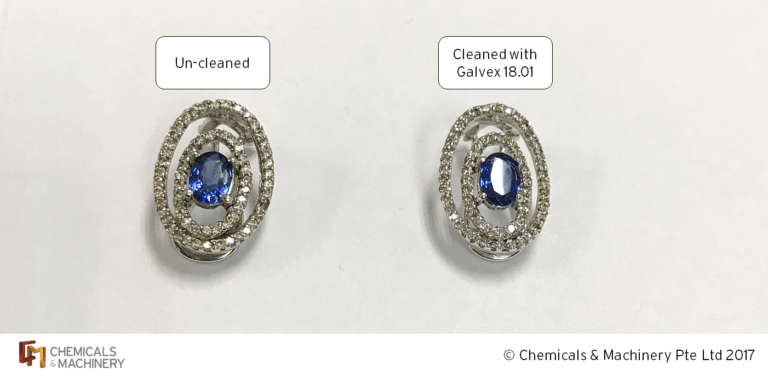 Once Galvex 18.01 is utilized, the brightness of the earrings are restored to its original sheen, with brightness and color changes observed. Together with the mechanical action of the Ultrasonic Cleaner, oils, dirt, and environmental damages are removed from the piece.
This particular bracelet has not been cleaned in more than 20 years! With tarnishing of the gold as seen on the surface, Galvex 18.01 was used alongside a short dip of NGL Silverbright to restore the piece to its former condition. The surface is completely free from the black spots that were in between the links and the color has gone back to a bright and natural gold color.

The cleaning effect not only works on precious metals but also plated surface just like this old pair of cufflinks, removing the orange tinge on the uncleaned surface to reveal a natural gold color.
To finish the restoration process and to ensure that the color maintains well through periods of storage again, we coated the parts with Stella Chemical's range of Anti-tarnish to ensure that the beautiful pieces have their sheen maintained for the foreseeable future!
If you too would like to test it out and see the results for yourselves, do drop us a note at sales@chemac.com.sg or alternatively, give us a call at +65-6265-9311. As always, if you have any questions, we would be glad to answer them!
Stay tuned for our next edition!
Kwan Wai Yew (KWY) is the Sales Director of Chemicals & Machinery. Despite having recently graduated with a BA (Hons) in Business Economics (UK), Wai Yew is no new comer to the Surface Finishing industry. Besides having a knack for sales, he is also passionate about sneakers and a bona fide petrolhead.
1
2
3
4